Description
LED Animations with Pixel LED Animator 2.3.0 NEW!
Your Ultimate LED Animation Solution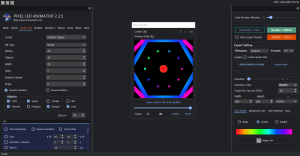 Welcome to the world of captivating LED animations, where imagination knows no bounds! Introducing Pixel LED Animator 2.3.0, the latest innovation that empowers creators, designers, and artists to bring their LED lighting setups to life like never before. With a rich array of features and unprecedented compatibility, Pixel LED Animator 2.3.0 is the ultimate software tool you need to craft stunning custom LED animations that mesmerize and captivate effects for led edit, jinx and more. Download pixel led animator now!
Pixel LED Animator 2.3.0 comes equipped with an impressive effect generator
giving you the tools to unleash your artistic vision. Transform mundane LED displays into dynamic canvases of expression, allowing you to effortlessly design intricate animations that evoke emotion and awe.
One of the standout features of Pixel LED Animator 2.3.0 is its seamless integration with various leading LED software platforms. Whether you're familiar with pixel led effects for LedEdit, LED Strip Studio, Jinx – LED Matrix Control, or any other software that accepts video file input, Pixel LED Animator 2.3.0 harmonizes with your creative workflow, opening up a world of possibilities for your LED animations.
Discover a vast spectrum of effects within Pixel LED Animator 2.3.0, including LED bar effects, linear animations, and the charm of EMOJI animations. This software serves as an unlimited source of inspiration, enabling you to generate a diverse range of effects and expand your LED animation library. The result? Visually captivating LED displays that leave an indelible mark on your audience.
Easy export your effects to a video file formats!
Flexibility is at the core of Pixel LED Animator 2.3.0, offering support for multiple export formats such as .SWF, .AVI, .MOV, .GIF, and more. This adaptability ensures that your LED animations seamlessly integrate into various multimedia projects, allowing you to share, embed, and collaborate with ease.
Embark on a journey of creativity and innovation as you harness the power of Pixel LED Animator 2.3.0. With compatibility across a spectrum of LED software and controllers, coupled with an extensive range of features and export options, this software is your gateway to crafting LED displays that transcend the ordinary, don't search for pixel led effect free download create them easily with our software!
Unlock the potential of your LED lighting setup with unlimited effects and elevate your LED Edit Effects library with Pixel LED Animator 2.3.0.
Ready to transform your LED animations? Explore the limitless possibilities with Pixel LED Animator 2.3.0 now!
More info at homepage below:
Explore the possibilities now: Visit PIXEL-LED-ANIMATOR.COM